CryoKING Automated Products Of SBS Standard
- Dec 15, 2017 -
With the rapid development of Precision Medicine, the significance and inevitability of big data and biobanks are recognized by research-based institutes. Therefore, informationization and automation of biomedical sample storage and management are demanded to enable the high sample throughput. In response to the new demands in the whole sample management system, Biologix has developed the CryoKING automated products of SBS standard which are available to automatic workstations in biobanking, testings, pharmaceuticals and clinical trials.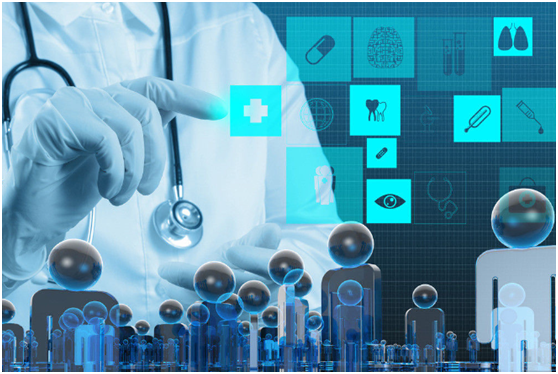 CryoKING automated products of SBS standard include 96-well SBS cryogenic vials, SBS format cryogenic racks, and SBS format combo. CryoKING 96-well SBS cryogenic vials are laser-etched with 2D barcodes (data matrix code), and 100% QC ensures that each vial can be read rapidly. Vials fit the standard SBS format racks accordant with ANSI/SLAS standards. The perfect vials enable excellent transparency and visual control for operators. The internal thread of the cap enables tight sealing performance; the O-ring is injection molded onto the cap and enables securely positioned and cannot twist. CryoKING 96-well SBS cryogenic vials are unbeatable for sample collection and storage due to the optimal compatibility with rack, excellent traceability and high security.
CryoKING SBS format racks are made of PC materials and stackable. 2D barcode, 1D barcode, and human-readable numbers are on the side, and 2D barcode at the bottom. Cryogenic vials and racks can be traced at the same time. Equipped with simple and powerful mechanical locking function, operators can slide the buttons gently on two sides of the rack to unlock.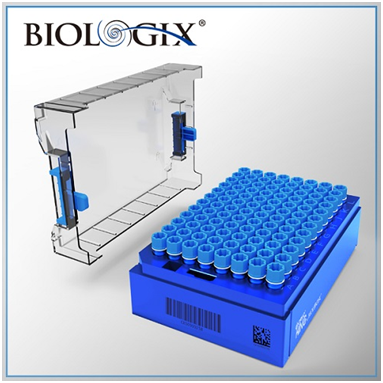 CryoKING SBS format combo is composed by 96-well SBS cryogenic vials and SBS format racks. As a major information-based product of CryoKING up-to-date technology, CryoKING SBS format combo is a new sample storage system of Biologix independent intellectual property rights, and can be stored at Laser etched international standard Datamatrix 2D barcode on the bottom of the vial can avoid sample information loss or contamination which is caused by label missing. Pre-set 2D barcodes reduce the cost and time of sample storage. 1D barcode and human readable numbers enable safe and rich sample information. CryoKING SBS format combo enables everyday routines fast, easier and reliable due to its traceability, safety, and compatibility.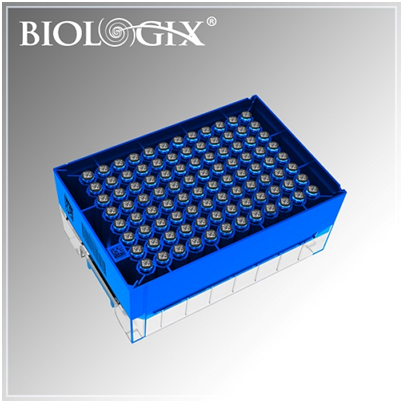 CryoKING automated products of SBS standard are the result of Biologix continuous self-innovation and improvement on CryoKING complete biobanking solutions. Due to the technology and experience of life science and medical research tools, Biologix now offers the on-stop biobanking services based on integrated biobanking designs, full biobanking supplies, and comprehensive biobanking training. CryoKING complete biobanking solutions are featured high automation, advanced modularization, and integration of software and hardware. CryoKING automated products of SBS standard can significantly improve the informationization and automation of biobanking solutions.